Celebrating Graduate Success at Craven College
Published 21 September
Last Friday Craven College recognised the success of its Higher Education graduates at the 2022 Craven College Graduation Ceremony held in Skipton.
The class of 2022, who had studied most of the duration of their degrees during covid lockdowns and via remote learning, celebrated their hard work and determination along with family, friends and VIP guests of the College at the beautiful locations of Skipton Castle and Holy Trinity Church.
The special ceremony saw Craven College's Higher Education students graduating from Accounting, Business & Management, Animal Management, Aviation, Land-based Studies, Therapeutic Counselling, and Young Children's Learning & Development sectors.
Principal and CEO of Craven College Lindsey Johnson addressed attendees and firstly spoke of the recent passing of Her Majesty Queen Elizabeth II and reflected on the Queen's monumental life and reign. Lindsey referred to a quote by the Queen in 1992, "I think training is the answer to a great many things. You can do a lot if you are properly trained and I hope I have been."
Lindsey spoke to the graduates, congratulating them on their well-deserved achievements through what had been a difficult time to study and said, "I hope, that as you progress to the next stage of your career, you can look back and appreciate that you too have been 'properly trained'. That you can embrace and even spearhead change. And that you find the strength and resilience to realise your dreams through your endeavours."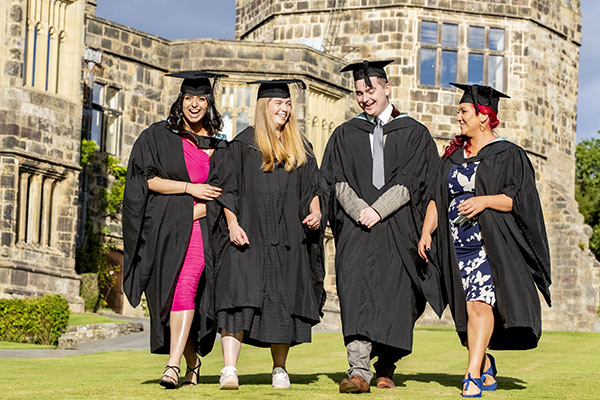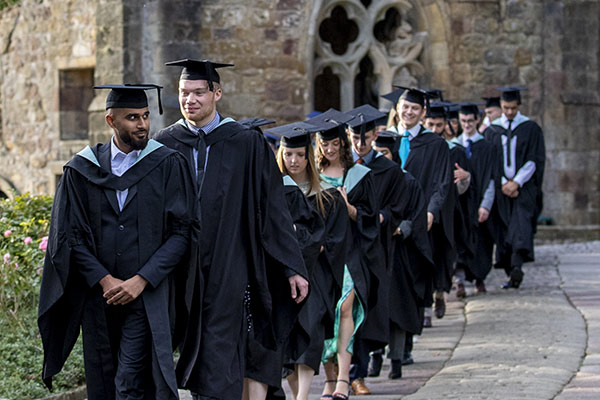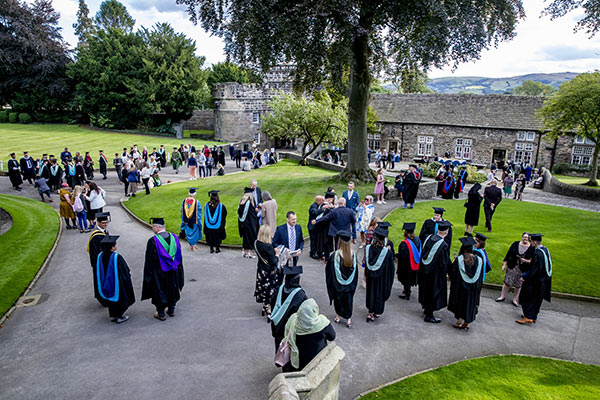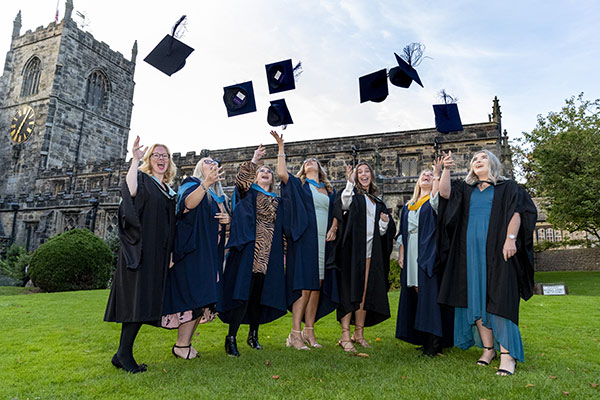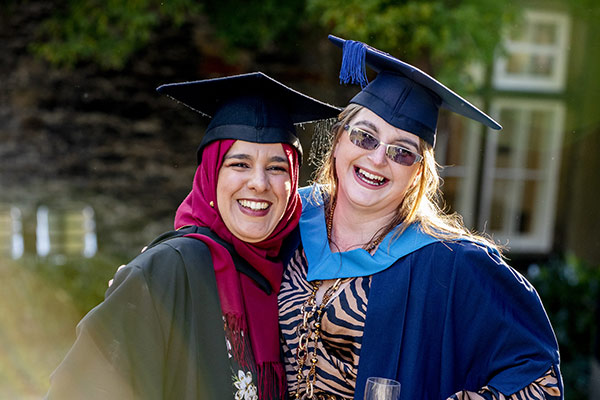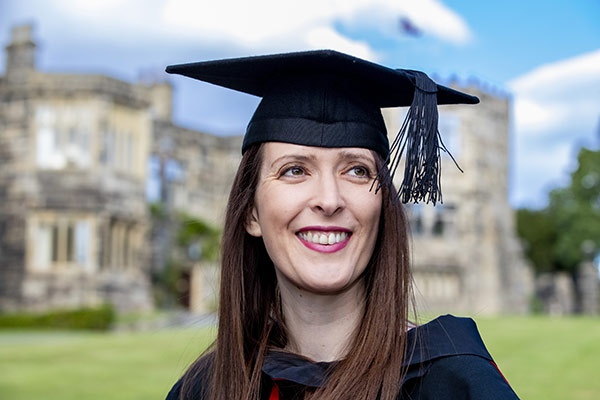 The special guest speaker in attendance was Danielle Brown MBE. Danielle is a double Olympic Gold medallist in archery and the first Paralympian to represent Team England at an able-bodied event at the Commonwealth Games in 2010 in Delhi. She has now retired from sport and is carving a career as a motivational speaker and children's author. Danielle was born in Lothersdale, and was educated at Glusburn Community Primary School and South Craven School and she has represented Team GB at four World Championships and two Paralympics.
Danielle spoke about her journey, the challenges she faced and how she overcame them. She spoke to the graduates saying "I want to share three important messages. Firstly, invest in yourself; investing in yourself will really help propel you forward. Secondly, invest in other people; build those relationships and networks along your journey. Thirdly, take note of the tiny positive actions you make. It might not seem like you're progressing but by focussing on those small actions, they'll eventually add up. They'll contribute to you going in the right direction."
As well as graduates receiving their degrees and awards validated by The University of Hull, The Open University, AAT and Pearson, a number of special prizes were presented to students, who had shown academic excellence, exceptional determination, working to a high standard and displayed professional skills required for employment.
These were:
Award For Academic Excellence – For high achieving students – Sarah Vambe
The Principal's Prize – For students studying in exceptional circumstances – Bethany Pinder
The Dissertation Prize – For completing an outstanding Dissertation that demonstrates innovation and an interesting approach – Megan Brennand
Jet2.Com Award for Employability Skills – For an Aviation student who is the most likely to succeed in industry – Jade Reidy
Craven College HE Award for Land-Based Industries – For Land-Based Studies students who are the most likely to succeed in industry – James Eckersley
Craven College HE Award for Caring Professions – For students who are the most likely to succeed in industry – Sally Clarke
Craven College HE Award for Business & Management – For students who are the most likely to succeed in industry – Heather Denby
Craven College HE Award for Animal Management – For students who are the most likely to succeed in industry – Molly Stowe
Special Prize Winner – Megan Brennand, Young Children's Learning & Development BA (Hons)
"I'm wanting to pursue a career in Play Therapy with children and this degree was the stepping stone for me to get towards that career. Originally I wanted to be a photographer however ever since I volunteered in a nursery I fell in love with working in that industry. As part of the degree you work within the Early Years sector and I got a lot of experience during this period. The fact you worked alongside your degree was the reason why I chose to study at Craven College as other institutions didn't offer this within their degrees."
Special Prize winner – Heather Denby, Business Management in the Service Sector BA (Hons)
"I studied this degree as it opened up new career opportunities to me and the location of studying at Craven College fit in with my work and family life. Even though I studied mostly during Covid, my experience studying at the College was good. The tutors were great and supportive and were on always hand when you needed them."
Amelia Foster – Aviation Management & Operations FdSc
"Aviation has always been a passion of mine. Craven College actually inspired me to study Aviation, as it is quite a unique course to study, and as soon as I knew it was an option for me to study it I knew straight away it's what I wanted to do. I'd studied Travel & Tourism prior to my Aviation degree. Studying at The Aviation Academy opened the door to so many opportunities. I'm working for Jet2 now as a Passenger Service Agent and some of the guest speakers at the Aviation Academy, when I was a student, were Passenger Service Agents so that then highlighted role opportunities to me. In the future I'm really keen to go into the air investigation area as I've always been interested in that."
Phoebe Budd, Animal Management HNC (Animal Pathway)
"As I didn't want to study A levels at school I studied my Level 3 in Animal Management at Craven College. After completing that I then progressed onto the degree level. The tutors are really supportive and are more than happy to help you when you need it and they really helped me to develop my confidence. In the future, I want to continue my studies but ultimately my aim is to work in a zoo."
Joshua Whitehouse, Air Transport Management BSc (Hons)
"I've always been interested in Aviation. There's not a course like this and as it was so unique I wanted to study it. As the Aviation Academy is smaller than most colleges everyone gets to know each other and has a shared interest in Aviation. I'm learning to fly at the moment, getting my hours for my private license, and then I'm going on to study my Air Transport Pilot License qualification."
Bethany Richardson, Young Children's Learning & Development Fd
"I'm already working within the Childcare sector and I wanted to further my education and my career. I studied part-time whilst working, and also was pregnant so it was difficult at times during my studies. Being able to study at a college close to home really fit in with everything in my life. All the tutors have been so supportive throughout the degree, on and off campus."
If you're interested in studying a Degree level course at Craven College click here for more info:
Vocational
| Title | Level |
| --- | --- |
| Animal Studies | Entry Level 3, Level 1, Level 2, Level 3 |
| Aviation | Level 1, Level 2, Level 3 |
| Aviation & Tourism (Jan 2024) | Level 3 |
| Business | Level 1, Level 2 |
| Cabin Crew | Level 2 |
| Childcare (Early Years Educator) | Level 1, Level 2 |
| Countryside & Land Management | Level 1, Level 2, Level 3 |
| Horse Management (Equine) | Level 1, Level 2, Level 3 |
| Horticulture | Level 1, Level 2, Level 3 |
| Travel & Tourism (Jan 2024 - Aviation Academy) | Level 2 |
Apprenticeships
Degrees & Higher Levels
Part-time
T-Levels
Access to Higher Education