Britain's Future Farmers
Published 20 February
Pioneering three-way agricultural apprentice partnership set to up-skill Britain's future farmers
Skipton-based Craven Cattle Marts (CCM) and Craven College have joined forces to initiate a pioneering business-education partnership offering valuable apprenticeship opportunities in a unique link-up with three local farms.
The forward-looking scheme is aimed in the first instance at 16-18-year-olds under the General Farm Worker Apprenticeship qualification, but is said to have scope to appeal to wider audiences. It is also designed to help fill an acute shortage of young farm workers currently coming into the agricultural sector.
The project involves placements at Skipton Auction Mart to gain sale day work experience, running alongside farm-based experience at MP Jennings Dairy in Cowling, JA&JM Wade & Son in Cononley and AL Dean & Son in Threshfield, supplemented by day release college training.
Between them, the three farms offer an across-the-board range of working practices and disciplines involving cattle, sheep and pigs, and all other general agricultural-related activities such as milking, calving, lambing, feeding, bedding, tractor and machinery handling, husbandry and treatments.
The Jennings' 280-head milking herd is complemented by 240 head of dairy youngstock replacements, 150 store cattle, 1,300 lambing ewes and 600 store lambs. The Wades run 140 head of Continental suckler cows, 200 replacement/finishing cattle, 1,500 pigs, 450 gimmer lambs and shearlings annually, along with 20-plus industrial/storage units.
The Dean family holding comprises a herd of 120 pedigree dairy cows and 100 followers, 1,000 indoor lambing sheep, along with an agricultural contracting business offering silaging, slurry tanking, muck spreading and reseeding.
Craven College has for many years maintained a major on-site presence at the auction mart site, specialising in courses such as Agriculture Crops and Livestock, Countryside Management and Gamekeeping, Equine Care and Management, Horticulture, Landscaping and Sports Turf.
The new apprenticeship is an Intermediate Level 2 (GCSE) course for 16 to 18-year-olds spanning 18 months on a salaried position and offering two days auction mart-based, two further days farm-based and one day at College working towards a General Farm Worker apprenticeship.
At CCM the scheme is being administered by Andrea Wade, who works in the mart office and whose husband Robert is one of the three farmers involved in the project. Andrea is well qualified for the brief as she previously worked as a secondary school teacher for 23 years, latterly for ten years as Deputy Headteacher responsible for curriculum development, staff professional development and collaboration with other secondary schools and Post-16 providers in Pendle to ensure good outcomes and progression routes for young people.
She commented: "On our own farm, like many others, we are struggling to recruit young farm workers. There is a definite labour shortage across the agricultural sector. This innovative scheme could well help plug the gap and attract more young people who want to enjoy an outdoor lifestyle, including those who do not have a background in farming."
CCM's general manager and auctioneer Jeremy Eaton said: "It's noticeable that with the requirement for students to stay in full-time education until the age of 18 that the traditional source of applicants for roles around livestock markets, particularly those who live on farms, has dried up.
"If we as businesses are to stem the flow of young people into alternative career paths then I believe we have to be actively engaged in developing worthwhile apprenticeship roles. The combination of CCM working alongside proactive farms means that a student can fully learn a variety of disciplines to become very employable in the rural sector."
Gareth Dixon, Craven College's Vice Principal – Finance & Resources, said: "The College and Craven Cattle Mart have worked closely for many years. This exciting collaboration is the natural next step in our partnership, as well as allowing Craven College to continue to support the local farming community."
The first intake of students will be this September. Once launched further details of the General Farm Worker Apprenticeship will be available through the Craven College website here. Alternatively, anyone interested in the scheme should contact the Mart Office or email opps@ccmauctions.com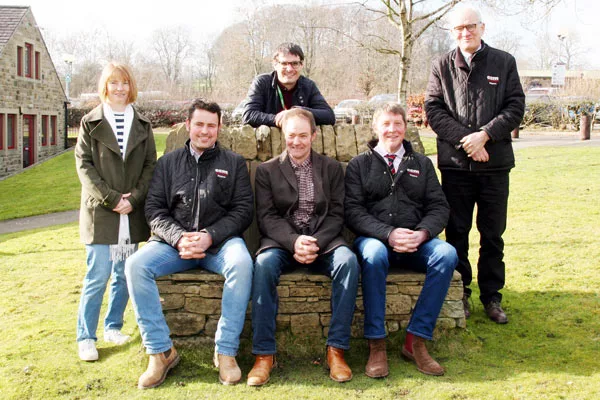 Photo (l-r) – Partners in progress – seated are the three local farmers involved in the new ground-breaking Apprenticeship Scheme, Martyn Jennings, Robert Wade and Angus Dean, joined by CCM's Andrea Wade, who is administering the initiative at the mart, Craven College's Gareth Dixon and CCM's Jeremy Eaton.
Vocational
Apprenticeships
Degrees & Higher Levels
Part-time