A Message for Planet Earth 
Published 18 October
Esther Abramson, a Level 3 Art & Design student at Craven College is showcasing thought-provoking artwork in response to the 'Dear Earth' project; a reflective community project run by Climate Action Ilkley exploring our relationship with the natural world.
Esther, who has been involved in Climate Action Ilkley since 2018, has contributed to the 'Dear Earth' exhibition with her own thoughts on climate change, pollution and biodiversity loss through artwork and a letter addressed to Planet Earth.
The 'Dear Earth' exhibition at Ilkley Manor House is a space where residents and visitors can contribute their letters, poems and illustrations, expressing their thoughts on the continued destruction of our planet.
Esther's captivating artwork has been produced and inspired by this project and is currently on display at the Skipton campus of Craven College.
Exhibition organisers, Climate Action Ilkley help residents and businesses of Ilkley reduce the climate impact of their homes or workplaces, travel and purchasing choices; improving food waste regimes; promoting renewable energy projects and co-ordinating with initiatives by other groups on water, wildlife, biodiversity, heritage and social inclusion.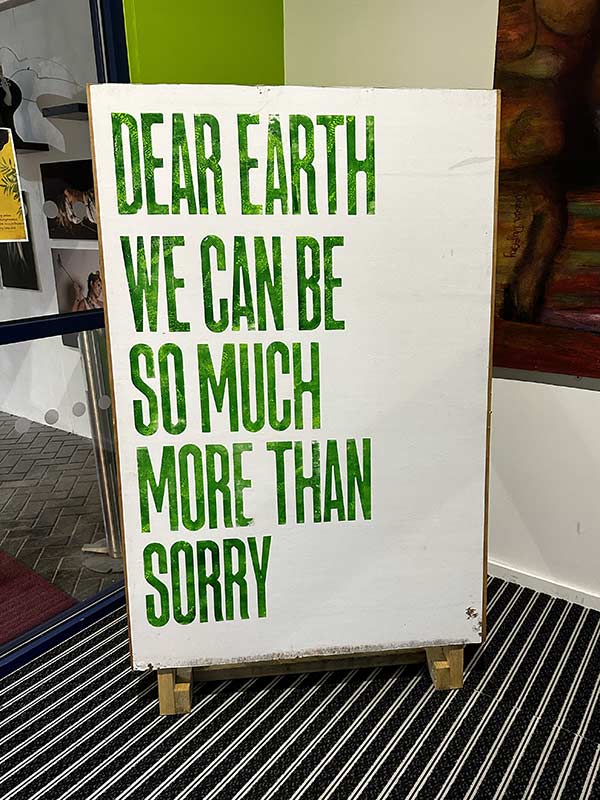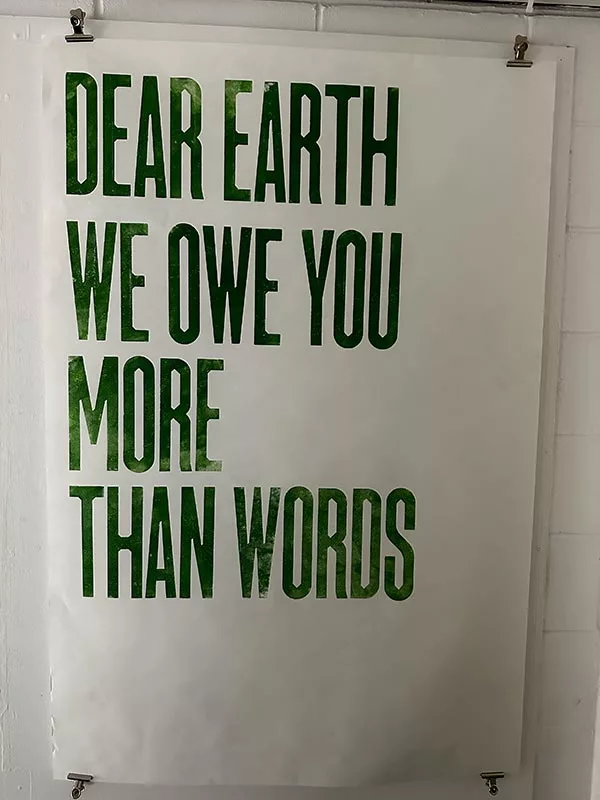 'Dear Earth' by Esther Abramson:

Dear Earth,
I am angry, as you are angry. Angry that those who have the power to make real change aren't listening to us, aren't doing anything meaningful.
I admire your resilience. Your resilience to find a way to re-emerge, to heal, when we allow you the time and space to do so.
I think of lockdown and how so many of your inhabitants thrived during the human retreat from 'normal' activities.
I think of my neighbour's tree, whose branches were brutally cut last year, and yet whose body now shows tiny sprigs sprouting everywhere. Sprigs of hope. That is all we need. That is this letter. That is any action we take against the harming of you.
I know that your anger and unpredictability is in response to how we continue to mistreat you and I am sorry that those who must listen have not yet truly heard your cries.
You are so much more than what we take from you.

You are our world.
Love from,
A human being.
Exhibition: Dear Earth is open until 29 October at Ilkley Manor House. To find out more about the exhibition click here.
For more information about Climate Action Ilkley or to get involved, click the link.
If you are interested in studying Art & Design at Craven College applications are now open for full and part-time courses. Find out more here
Vocational
Part-time
T-Levels