Students Flying High at The Aviation Academy World of Work Week
Published 01 February
Aviation Academy students have been immersed in a week-long series of career and employer events and trips at The Aviation Academy's World of Work (WoW) event.
The Aviation Academy, which is part of Craven College and based airside at Leeds Bradford Airport, welcomed experts from the Aviation and Travel sector to share skills and knowledge of the industry, as well as their stories and experiences working within the sector.
The WoW week includes companies such as Jet2, Swissport, Leeds Bradford Airport, Air Canada, Liverpool Airport, JetGlow and Talent View.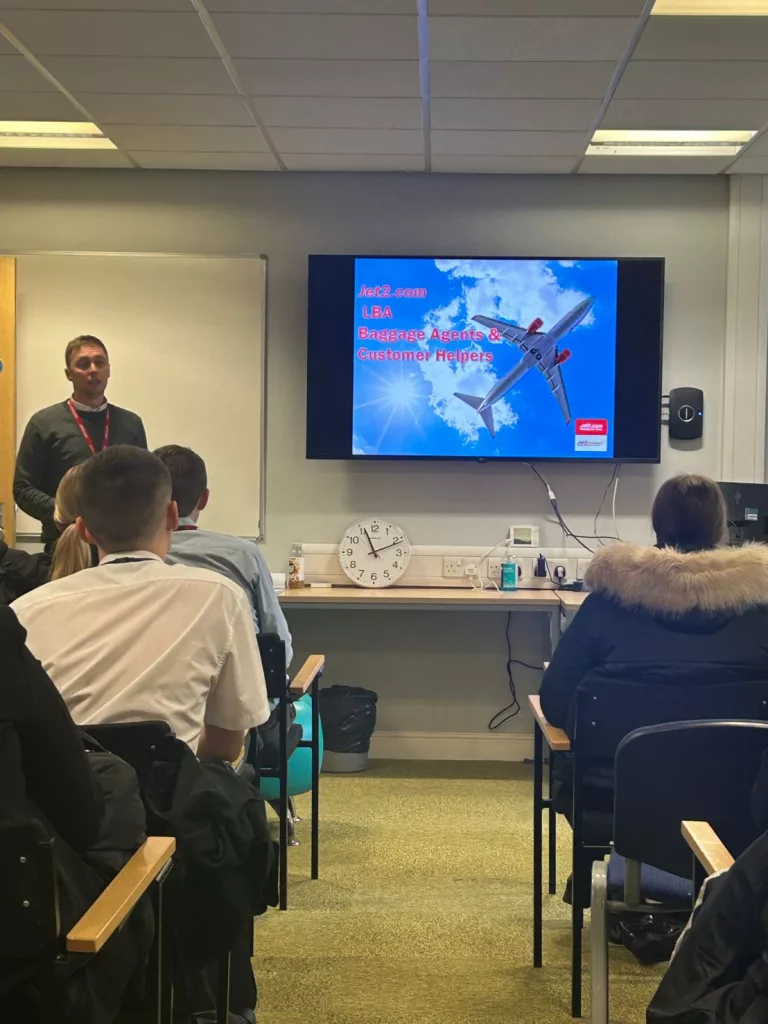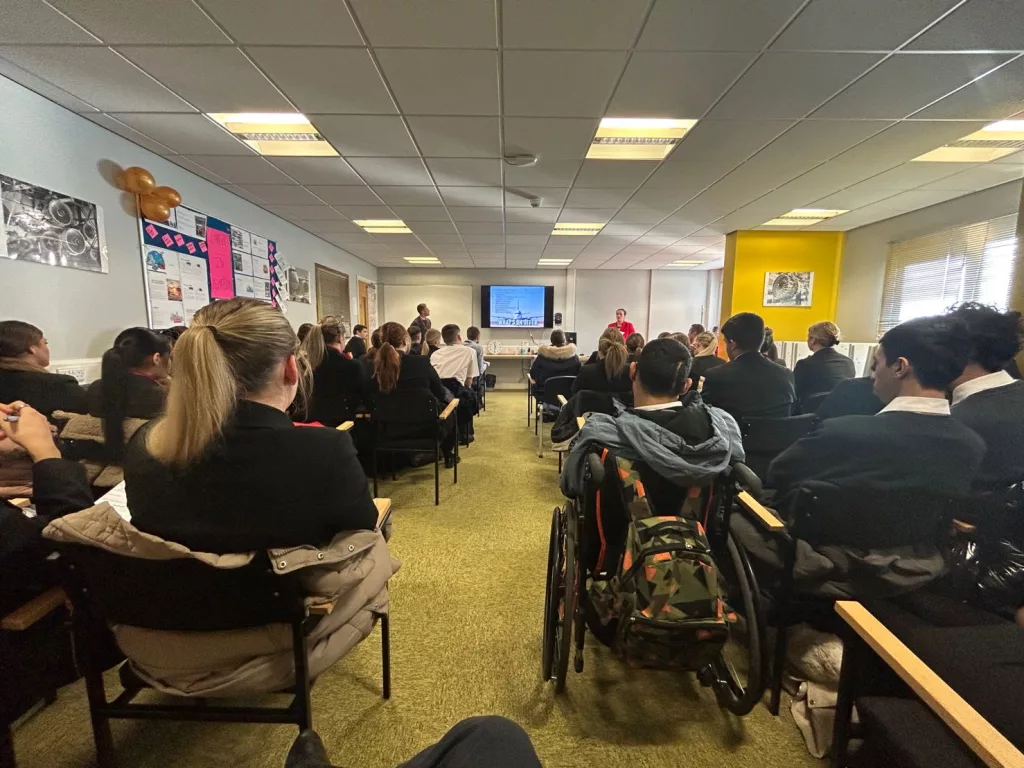 The jam-packed week of activities consisted of:
West Midlands Police Drone Pilot Trainer
The students were given a fascinating insight into the unmanned aircraft sector of Aviation. Drone usage saves West Midlands Police 2.4 tonnes of carbon emissions compared to helicopters and saves a huge budget amount. In the next 10 years as drones are used for more services, there will be a demand for 650,000 drone pilots in the UK!
Talentview
Aviation students were led through Talentview – a specialised platform for searching for jobs in Travel & Aviation. All the largest employers post jobs daily, from full-time positions to apprenticeships and work experience opportunities. Guest speaker Richard from Talent View inspired our students to reach high and that there is nothing to stop them from becoming the CEO of London Heathrow! "You are our managers of the future".
Josh Scofield – Former Aviation Academy student & current Customer Helper for Jet2 at Leeds Bradford Airport
Josh spoke to the students about what a typical day in his role at the airport looks like. He talked about being a student and how even through any tough times that he knew why he was at the Aviation Academy and how it would help his end goal. He still aspires to become a pilot, however, his current role at Jet2 has opened other internal opportunities within Operations, which he's now considering.
Leeds Bradford Airport – Terminal Operations
Two members of the Terminal Operations Team at LBA came into the Academy to speak in-depth about the variety of roles when looking after passengers' terminal experiences. The team's job is to ensure that a passenger's experience is as stress-free as possible and try and achieve a seamless journey through the airport. They spoke about how rewarding their role was and went through what it would mean to the students if they were to consider a role within this area.
The World of a Commercial Pilot
Bhavesh Bhagwanji shared his journey so far as a licenced commercial pilot. He shared information on how our Aviation students can navigate the difficulties of pilot training and the different pathways available. He spoke about the costs of training, and the different pilot training schools in the UK and abroad, as well as the differences between UK and EU licencing, and how this affects job opportunities with different airlines.
Humanitarianism in Aviation
Alan Benstock, a Chaplin delivered a presentation about the responsibilities he has at Manchester Airport. He shared stories about the issues that arise at Border Control, such as Modern Slavery and the trafficking of people into this country. He also explained the process of repatriation of human remains and the sensitivities around bereavement and travel.
Airside Tours at LBA
The students participated in an airside tour of Leeds Bradford Airport. They had the opportunity to ask LBA staff questions and discover the types of communications used for codes on stands and flight numbers to determine airline codes. Students saw everything from Security, World Duty-Free, Lounges, and international arrivals. They also had a talk about the PRM Able2Fly Computer system at the Gate 6 Assistance holding area. The Travel & Tourism students from Skipton campus got their chance to see LBA from all sides. The LBA team showed our students the airport operations and the new check-in area that opened last week. Students spent time on the customer service desk shadowing, helping customers with their enquiries and finding out more about the boarding process. Students then went to see an aircraft in for maintenance checks and watched an engine run. They also had access to board the craft and have a look at the galley and cockpit.
Airport Duty Manager
Nathan Stevenson presented to the students the roles of an Airport Duty Manager and his team, which included Duty Support Officers – many of whom started at the Aviation Academy! For this team no two days are ever the same and everything that happens inside and outside the airport is their responsibility, working with all third parties at the airport such as Swissport, Jet2, and retail outlets.
Leeds Bradford Airport Head of Security
The Head of Security discussed his varied career in different areas of security bringing a career in airport security to life He spoke about new and emerging technologies and how security will change in the future.
British Airways Female Airline Pilot
Suzanne Morgan explained how she started with a passion for gliding with her dad at the age of 4. She pursued a medical career until joining the University Air Squadron as a hobby and fell in love with flying. She joined the services flying fighter planes and then joined British Airways and It took her 18 years to become a captain. She talked about being female in a traditionally male environment and shared what her day-to-day role consisted of and the highs and lows of the job.
National Air Traffic Service (NATS) and Aerobility
Brian Wheeler worked in the National Air Traffic Service, however after a spinal injury in 2018 and being told he would never walk again, he started to work with Aerobility; a charity that believes that anyone can fly no matter what their disability or ability. He talked about always aiming high and never thinking you can't do it. During the session, Brian challenged our students to complete a skydive as part of their fundraising project for this year!
As well as the many sessions above, students also heard from Graham Foster, Head of Engineering at Air Canada, Tom Holdsworth, Aviation Development Manager at Leeds Bradford Airport, Hannah at Hebridean Cruises, Jet2 on Front of House roles and the Head of Air Traffic Control at Liverpool Airport.
Nikki Chestnutt, Head of Aviation & Travel at the Aviation said, "Our World of Work week-long event has been a fantastic success. It's been amazing to have so many industry experts take part, speaking to our students about the many different career paths in Aviation and Travel. This type of activity is key to our student's development in getting them to consider their next steps after studying with us. The students have enjoyed it so much."
If you are considering studying a course in Aviation or Travel & Tourism, then find out more here:
Vocational
Degrees & Higher Levels