Craven College is proud to be part of the Yorkshire and Humber Institute of Technology (IoT), a collective of Further Education colleges, university partners and businesses that focuses on supporting innovation in technology, identifying future skills needs, and driving economic growth, both locally and nationally.
As part of the IoT the College has invested in state-of-the-art equipment and facilities to deliver advanced technical training, enhancing our students' career prospects and ensuring our students graduate as highly skilled professionals.
Spread across our Skipton and Leeds Bradford Airport campuses, our IoT provision has close links with industry experts allowing you to develop cutting-edge skills and knowledge needed for the 21st century.

Staff from Craven College were pleased to be part of the first Yorkshire and Humber Institute of Technology Conference. Craven College presented 'Enrichment Equals Employability'; a look at how behaviours and employability are developed within the curriculum. Find out more about the conference…
Courses
Discover the range of IoT courses we offer:
College, University & Business Partners
Meet our Students…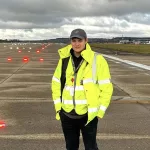 Without The Aviation Academy, I would not be in the role I am now. I originally started at Leeds Bradford Airport because of a recruitment day at the academy. The airport staff came across to The Aviation Academy to do interviews because they are aware of the amazing knowledge and skills learnt on their courses.
The Aviation Academy doesn't only prepare you for things you need to know and knowledge such as airport codes, regulations, and customer service but also practical skills, such as roleplays to gain communication and teamwork skills which are vital in the industry.
---
Skipton Building Society – Apprentices