Craven, Camera, Action!
Published 03 April
Creative Industries students and staff at Craven College embarked on two days of industry collaboration with Screen Yorkshire recently.
Screen Yorkshire, who are based in Leeds, is the organisation that drives the film and TV industries in Yorkshire and Humber and has close ties with the College through Connected Campus, an initiative that forges links with students wanting to break into the industry with TV and Film professionals.
The first day took place on campus in Skipton where students worked together with industry experts to create a commercial advert for businesses on Skipton High Street. As part of the project, Performing Arts students worked with a screen casting agent who took them through their recommended top tips for success in the sector.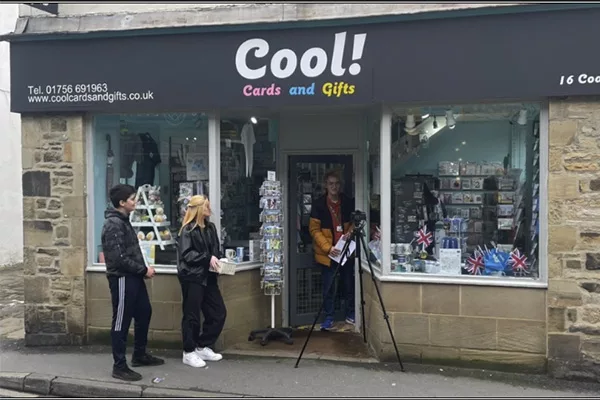 The second day was out on location in and around Skipton High Street within its local businesses. Berries Florists, Elsworth Kitchen, Captain Jellyfish Clothing, Teddy Boutique, Craven Arts Centre, Cool Cards & Gifts and Spears Travel were some of the well-known local businesses that took part. The College's Media students created short commercial scripts to showcase the retailers, and once set for action, the Performing Arts students delivered the pieces.
Susan Hargreaves, a lecturer in Performing Arts commented, "This was a great experience for our students to be able to benefit from the knowledge and skills of those from Screen Yorkshire. The two days were a huge success, and the project tested the creative minds of all students involved."
Vocational
Degrees & Higher Levels