School Leavers' Enrolment - Art, Design & Fashion
Art & Design courses start Monday 05 September 2022.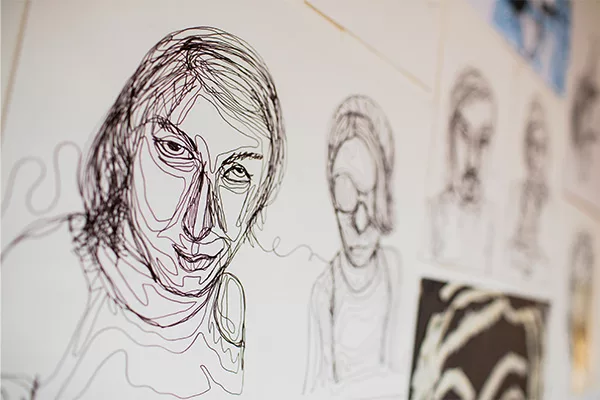 Uniform
Apron or large old shirt to protect your clothes during workshop times (add a name tag)
Books
Here are some suggested books which you may find interesting in supporting your research and understanding of art movements and aesthetics.
Ernst Gombrich 'The Story of Art'
Deyan Sudjic 'The Language of Things'
John Berger 'Ways of Seeing'
Matthew Collings 'This is Modern Art'
Art kit
Equipment will be checked and expect to undertake some practical initial assessments during the first week.
Variety of drawing pencils – HB, 2B, 4B and 6B
Plastic (hard) rubber
Charcoal (Compressed charcoal and willow charcoal)
Scissors
Craft Knife & Cutting Mat
Hair Spray (fixing artwork)
Brushes (synthetic ones for acrylic are fine, some fine: size 1-5 and some large size 10, 12) also some thick house-hold brushes.
Palette Knives (plastic OK)
Acrylic paints – primary colours and black and white (students tend to use more white so you may need twice as much)
30cm metal ruler, Pencil sharpener, A4 ring binder, Writing pad paper, PVA white glue, glue sticks
String, scrap paper, magazines, etc
Masking tape
Watercolour tin
A USB stick or SD card (at least 64GB)
External hard drive
A4 & A3 Sketchbook
A5 plain drawing pad for each project
A3/A2 Plastic Portfolio (to carry work in)
Tracing paper
Cartridge paper
Canvases: (on cardboard are cheaper)
Equipment for Graphics & Photography
Digital Camera or Mobile Phone camera
Video editing access: on computer: Adobe Premier, Imovie, Lightworks, or smartphone: iMovie, Quik, Filmorago
During some specialist blocks, you may be asked to purchase more specialist materials such as small amounts of silver for jewellery or specialist materials for fashion and textiles.
Work Experience
Click here for Work Experience information. Potential providers: The Art Shop Skipton, Craven Arts, Thornton Hall Farm, Craven Council, North Star Printers.