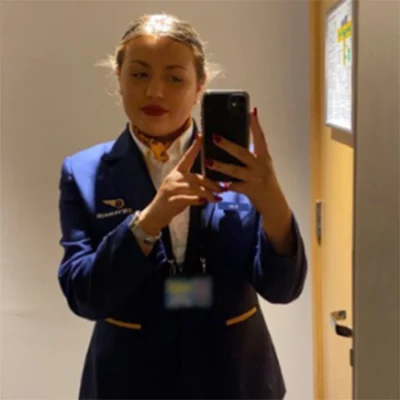 Current course/job
Aviation Management & Operations FdSc
Cabin Crew for Ryanair at LBA
Qualifications gained
Aviation Operations Level 3
-Extended Project Qualification
WHAT DRIVES YOU OR EXCITES YOU ABOUT THE AVIATION/TRAVEL INDUSTRY?
The industry is so fascinating and being part of such a transfixing industry is exciting. I enjoy being a part of every passenger's holiday, being able to give them a memorable experience is rewarding and seeing them leave with a smile makes my day worthwhile. I love the feeling of going to work as it doesn't feel like a job to me and every day is different, which is all part of the fun.
HOW HAS THE TAA HELPED YOU ON YOUR JOURNEY, WHAT HAS THIS INVOLVED AND WHAT HAVE YOU LEARNED?
TAA has taught me everything I know about aviation which made it easier when entering employment within the industry. All tutors come from amazing and diverse backgrounds which makes the learning so unique as well as their passion for aviation. All the tutors sincerely care about the students here and push us to do our best. I've also met some amazing people within my 4 years at TAA and made friends for life. It's also a great College for networking – there are lots of people who work at LBA from TAA so it's nice to see familiar faces around the airport! TAA will always have a special place in my heart.
YOUR AMBITION AND CAREER GOALS/NEXT STEPS:
I always thought Cabin Crew was my end goal, it was and still is my dream job, but since choosing to progress onto the degree, I've realised there are many more sectors of the industry that interest me. I would love to move into HR, to work closely with cabin crew recruitment or working in crew control and managing crew rosters etc. Continuing my academic growth is something that I feel I would enjoy. In 10 – 15 years I see myself teaching aviation (hopefully at TAA) to ambitious students and if I can inspire them as much as my tutors have inspired me over the years, it will be worth it.