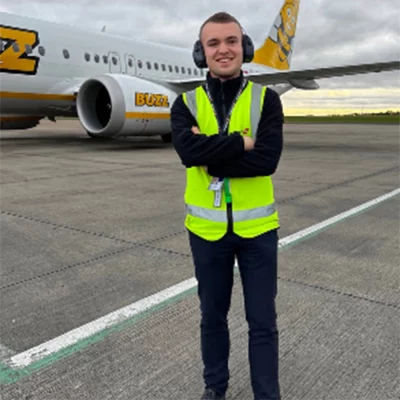 Current course / job
Air Transport Management BSc (Hons) (Top-up)
Dispatcher for Swissport at LBA
Qualifications gained
Aviation Operations Level 3
Cabin Crew Enrichment Certificate
Aviation Management & Operations FdSc
WHAT DRIVES YOU OR EXCITES YOU ABOUT THE AVIATION/TRAVEL INDUSTRY?
The biggest thing that excites me about the aviation industry is the fact that no two days are the same! One day you could be checking-in and dispatching 5 flights, whilst the next you could be dealing with 10 flights that have been cancelled due to snow. Yes, the industry is so vast and homogeneous, but the people that you work with all share the same passion as you, and that is of course aviation.
HOW HAS THE TAA HELPED YOU ON YOUR JOURNEY, WHAT HAS THIS INVOLVED AND WHAT HAVE YOU LEARNED?
The Aviation Academy has certainly helped me with my career in aviation thus far! When going for interviews, employers have spotted the fact I have studied at TAA and solely ask questions about my course and my experience at the Academy. Likewise, the connections the Academy and its staff have with key industry players and figures are second to none.
I found it extremely helpful knowing the fact all tutors have worked within aviation before becoming a teacher and therefore can explain things to students in a deeper way to get a greater understanding and share their own experiences of the industry – both good and bad.
YOUR AMBITION AND CAREER GOALS/NEXT STEPS:
Overall, my ambitions are to become a Commercial Airline Pilot; however, I am in no rush to become a pilot just yet. My short-term plans are to work my way up in different areas on the ground over the next 5 or so years, for example, I have just been promoted to the position of Line Trainer at Swissport LBA. Likewise, I wish to carry on my education and gain a Masters and a PhD in the field of Aviation or Management and The Aviation Academy has certainly put me in a good position to do so.