Open Evening – Skipton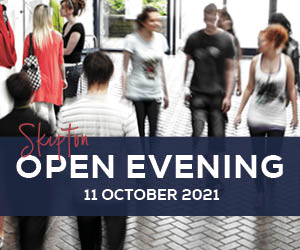 11 October
5:30 pm
–
7:30 pm
Register your place for the Craven College Skipton Open Evening and learn more about our Apprenticeship, Degree, T-Level and Vocational study programme options.

What to expect:
Interactive taster activities
Meet tutors and student ambassadors
Tour the facilities
Speak to student and support services
Make an application for your September 2022 place
Where to go on the Evening
For Countryside & Agriculture, Equine and Mechanics, please go directly to the Auction Mart Campus, Gargrave Road, Skipton, BD23 1UX.
For all other subject areas, please go to the Aireville Campus, Gargrave Road, Skipton, BD23 1US.
EVENT FAQS
Can I bring someone with me to the event?
Visitors are welcome to bring friends or family to accompany them to the event.
Do I need to arrive by a certain time?
Visitors can drop in anytime between 5:30pm – 7:30pm during the event.
Should I wear a mask to this event?
Masks are now a personal choice. Please respect other guest's choices to wear a mask or not to the event.
Can I make an application at the event?
There will be an application station available in the café with support on hand to help you make your application.
Is parking available at the event?
Parking will be available on the evening at the Craven College Aireville Campus but is limited. Alternative parking will be available at the Craven College Auction Mart Campus, just a short walk away from the Aireville Campus, or guests can choose to park at the Craven Leisure Centre car park.
Please note, the Craven Leisure Centre operates a pay and display scheme. Guests who choose to park here can claim their money back at the Open Evening event. Full information on the pay and display scheme can be found here
If you have any further queries regarding this event, please email marketing@craven-college.ac.uk and our team will get back to you.