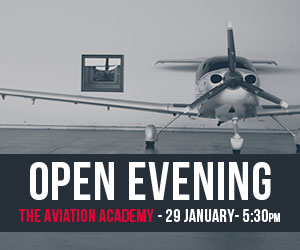 Open Evening – Aviation Academy
29 January 2020 5:30pm - 7:30pm
Interested in a career in aviation? Come along to our Open Evening and speak to course tutors who teach on Level 2 & 3 courses through to Degree level, explore the campus and ask any questions about getting into the aviation industry.
The Aviation Academy, Hangar 1, Southside Aviation Centre, Leeds Bradford International Airport, Leeds, West Yorkshire, LS19 7UG
All of our Aviation courses will be represented at our unique airside campus at Leeds Bradford Airport.Due to limited availability and security reasons, we can only allow ONE guest per student. This person does not require a ticket - booking is for student only.
Please note the presentations will start at 5:30pm prompt.
Please book your tickets for The Aviation Academy below: