Learn how to service and repair vehicles using our very own fleet of cars (including hybrid) and tractors based at our Auction Mart Campus, Skipton.
Servicing and repairing our own fleet of cars and tractors in our well-equipped industry-standard workshops and investigation areas based at the Auction Mart Campus in Skipton will give you the practical and theoretical knowledge you need for a career in the world of Vehicle Mechanics.
You will be taught by Vehicle Mechanics industry specialists with a wealth of experience and skills in areas such a Construction Plant Repair, Motor Sports, Vehicle Repair and AA Patrol. You will develop your skills and ability to identify the source of mechanical and technical problems and how to fix them as well as servicing, maintaining vehicles, welding and pricing jobs.
Visits to manufacturers eg Sumo. E. Yorkshire, dealers, auctions and trade shows will keep you up to date with the latest developments in the industry.
Auction Mart
Study Location
1-2 Years
depending on Level
Entry Requirements
Level 2 – 4 GCSEs grade 9-3 or Mechanics Level 1/Land-based Studies Level 1 including English & maths GCSEs grade 9-2
Level 1 – 4 GCSEs grade 9-1 including English & maths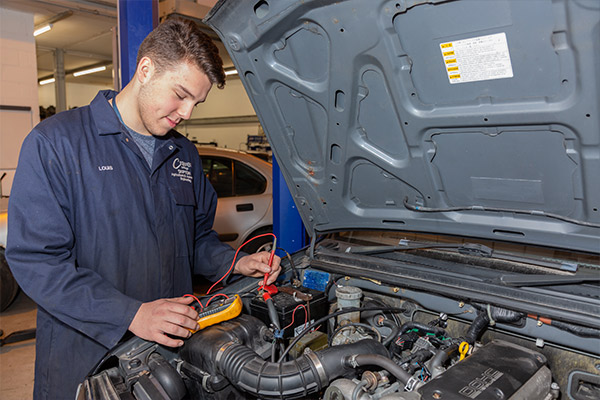 What you will study
Units
• Introduction to Vehicle Ignition Systems
• Introduction to Vehicle Valeting
• Introduction to Motorcycle Maintenance
• Health & Safety for Motor Vehicle
Units
• Hybrid Vehicle Operation
• Hydraulic & Electrical Power Steering
• Faults & Diagnosis & Identifying Causes of Wear
• Electrical Components & Formulae
What's Next?
Select your preferred study programme (subject). You can make 2 choices now and make a final decision in June. We will give you a conditional offer based on your predicted/actual GCSEs.
Further Study
Land-based Service Engineering Apprenticeship
Motor Vehicle Service & Mechanic Engineering Apprenticeship
Careers
Light/Heavy Vehicle/Motorcycle Service Technician
MOT Technician
Service Technician
Tyre Fitter/Technician
Vehicle Breakdown Engineer