Specialise in the servicing and repair of agricultural vehicles with the use of our tractors and wide range of farming machinery based at our Auction Mart Campus, Skipton.
Develop the knowledge and skills to service, maintain and repair a wide range of land-based machinery including tractors, plant machinery, 4×4, harvesting machinery and ground care machinery.
You will develop diagnostic skills, theoretical knowledge and understanding of Agricultural Engineering principles together with a range of workshop skills including welding.
The course is taught by industry experts supplemented by specialist visits and work experience to prepare you for a career in Agricultural Engineering.
Auction Mart
Study Location
1-2 Years
depending on Level
Entry Requirements
Level 3 – 5 GCSEs grade 9-4 including English or maths or Agricultural Mechanics Level 2 (Merit/Distinction)
Level 2 – 4 GCSEs grade 9-3 or Mechanics Level 1/Land-based Studies Level 1 including English & maths GCSEs grade 9-2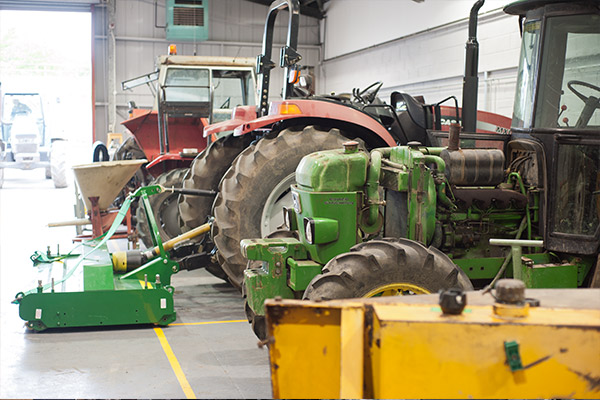 What you will study
Units
• 4X4 Engines
• Farm Machinery
• Hydraulics Maintenance & Repair of Land-based Machinery
• Operation of Land-based Machinery
• Steering Suspension & Brakes
• Tractors
• Transmission
• Welding & Fabrication
• Wheels & Tyre
Units
• 4×4 System Maintenance
• Chassis & Suspension Systems
• Diesel Fuel Systems
• Engine Service & Repair
• Harvesting Machinery
• Health, Safety & Welfare in the Workplace
• Hydraulics Hydrostatic & CVT Transmission Systems
• Land-based Machinery
What's Next?
Select your preferred study programme (subject). You can make 2 choices now and make a final decision in June. We will give you a conditional offer based on your predicted/actual GCSEs.
Further Study
Agricultural Engineering MEng
Mechanical Engineering BEng (Hons)
Careers
Heavy Goods Vehicle & PSV Mechanic
Light/Heavy Vehicle/Motorcycle Service Technician
MOT Technician
Tyre Fitter/Technician
Vehicle Breakdown Engineer