If your dream career is to become a professional chef, this is a fantastic qualification to get you started. Throughout your learning journey, you will build up a high level of cooking skills and learn other workplace essentials like health and safety in a kitchen.
Our five-star catering facilities, including a state of the art Prep Kitchen and a Production Kitchen servicing The 3 Peaks Bistro give you a professional and exciting learning environment in which to hone your professional catering skills.
With guidance from our tutors, who are highly skilled chefs and hospitality experts, you may take on kitchen supervisory responsibilities in the areas of food safety, menu development and dish quality control and learn how the front of house works effectively alongside a professional kitchen. From a broad introduction to cooking a meal, looking after customers and planning and running events to focusing on professional cookery and the skills required to work in today's modern hospitality industry, you will experience the real demands and pressures of the industry.
Aireville Campus
Study Location
1-2 Years
depending on Level
Entry Requirements
Level 3 – Catering Level 2(Merit/Distinction) or 5 GCSEs grade 9-4 including English or maths
Level 2 – GCSE English and/or Maths grade 9-4
Level 1 – 4 GCSEs grade 9-2 including English & maths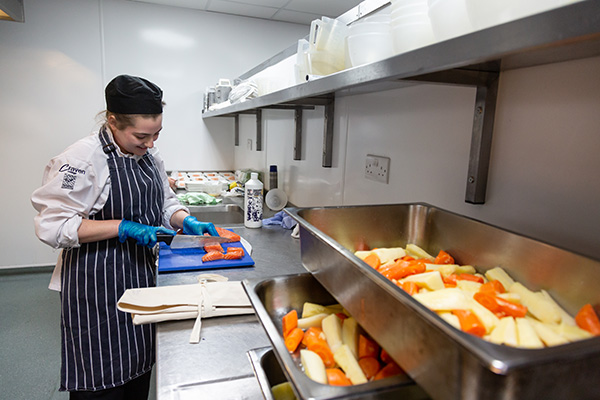 What you will study
Units
• Health & Safety in a Kitchen
• Food Safety
• Introduction to Employability in Hospitality
• Baking, Roasting & Grilling
• Boiling, Poaching & Steaming
• Cold Preparation of Food
• Stewing & Braising
• Regeneration of Foods
• Deep & Shallow Frying
Units
• Prepare & Cook Poultry
• Prepare & Cook Stocks, Soups & Sauce
• Prepare & Cook Meat & Offal
• Prepare & Cook Hot & Cold Desserts
• Prepare & Cook Enriched Dough Products
• Prepare & Cook Biscuits, Cakes & Sponges
• Prepare & Cook Fish & Shellfish
Units
• Legal & Social Responsibilities in the Professional Kitchen
• Financial Control in the Professional Kitchen
• Stocks, Soups & Sauces
• Fruit & Vegetables
• Meat & Offal
• Poultry
• Fish & Shellfish
• Farinaceous Dishes
• Desserts & Puddings
• Paste Products
• Biscuits, Cakes & Sponges
• Fermented Products
• Chocolate Products
What's Next?
Enrol for your study programme (subject).
Further Study
Hospitality Management FD
Careers
Chef
Front of House
Apprenticeship