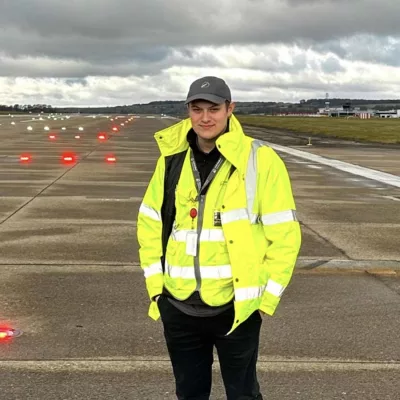 Current course/job
Air Transport Management BSc (Hons) (Top-up)
Customer Experience Officer, LBA
Qualifications
Aviation Level 3
Aviation Management & Operations FdSc
WHAT DRIVES YOU OR EXCITES YOU ABOUT THE AVIATION/TRAVEL INDUSTRY?
Ever since I was young, I would look up into the sky every time an aircraft flew over and be fascinated by how an aircraft gets airborne. Even now, working at the airport, I still get excited seeing an aircraft take-off or land and to be able to be up so close to the pieces of engineering is a great feeling.
Working in the airport to assist passengers with reduced mobility and to be able to give them the ability to travel is very rewarding. I also think, no two days are the same, and the variety of roles which directly support people to go on holiday gives the job a sense of satisfaction.
HOW HAS TAA HELPED YOU ON YOUR JOURNEY, WHAT HAS THIS INVOLVED AND WHAT HAVE YOU LEARNED?
Without The Aviation Academy, I would not be in the role I am now. I originally started at Leeds Bradford Airport because of a recruitment day at The Aviation Academy. The airport staff came across to the campus to deliver interviews because they work so closely with the team there and are keen to offer opportunities to the younger generation.
The academy doesn't only equip you with essential knowledge such as airport codes and regulations, but also teaches you key communication skills so you can deal with customer experience.
YOUR AMBITION AND CAREER – GOALS/NEXT STEPS:
Eventually my career goal is to work in an airside health and safety management role. In order to get there, I plan to continue working in roles across the airport in order to get a holistic view of its operation. I also plan on gaining some health and safety related qualifications at masters level in the near future.