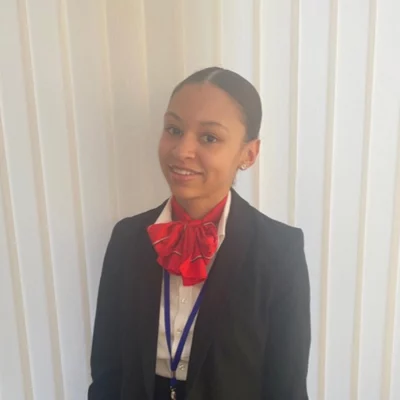 Current course
Qualifications gained
Aviation Environment Level 2
Travel and Tourism Level 3
WHAT DRIVES YOU OR EXCITES YOU ABOUT THE AVIATION/TRAVEL INDUSTRY?
Being based next to the Leeds Bradford Airport and walking up the drive to college every morning and seeing the aircraft land and take off motivates me to keep on going as I will eventually get to the stage in life where I am in my dream job and my hard work will pay off.
HOW HAS TAA HELPED YOU ON YOUR JOURNEY, WHAT HAS THIS INVOLVED AND WHAT HAVE YOU LEARNED?
TAA has helped me massively on my journey by filling me with vast knowledge of the aviation industry, and what's involved, understanding terminology I had no idea about before joining, and also gaining additional qualifications whilst studying my course. TAA has prepared me for interviews and how to be successful in a role as 'Preparation for Employment' was one of the units in both of the courses I have done at the college. All the tutors at the college have had previous experience in the industry and know what they are talking about when it comes to learning content. They can share their real-life experiences and because they have previously worked in the industry, they know what the industry is like and can prepare us for when we get there. I came to this college not knowing anyone and now I am going to be leaving with some really close friends and have grown more confident since I joined.
YOUR AMBITION AND CAREER GOALS/NEXT STEPS:
My ambition is to have a career within the aviation industry. My goal is to become cabin crew and I have successfully secured two job offers with Ryanair and EasyJet. I will begin my training with Ryanair in September 2022 with the intention to move to EasyJet in Summer 2023 as I am currently in their holding pool. My next step after finishing my course in June is to enjoy my last summer as a part-time worker at my current job ASDA Living, before heading into a full-time career. I have enjoyed my time here at The Aviation Academy and would recommend it to anyone who is passionate about pursuing a career in the Aviation Industry and wants to learn more about what it entails.