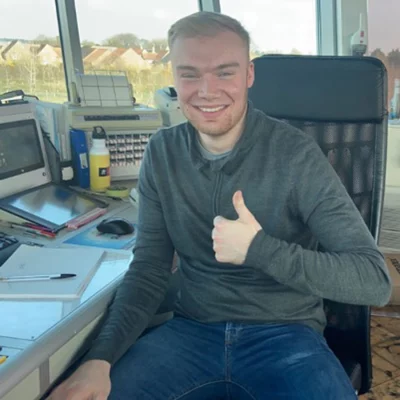 Current course/job:
Air Traffic Control Assistant (ATCA)
Aviation Management & Operations FdSc
WHAT DRIVES YOU OR EXCITES YOU ABOUT THE AVIATION/TRAVEL INDUSTRY?
I have always been passionate about the aviation industry and for as long as I can remember, I have always been fascinated by aircraft and desired a career in the industry. The air traffic environment is fast-paced and no two days are the same. What once was a hobby has developed into my career so, therefore, I will never work a day in my life as it's a pleasure to go to work.
HOW HAS TAA HELPED YOU ON YOUR JOURNEY, WHAT HAS THIS INVOLVED AND WHAT HAVE YOU LEARNED?
The staff at TAA have inspired me to work hard and apply what I have learned to the industry and without the encouragement from my tutors and fellow students, I wouldn't be in the position I am in today. The lessons are well-structured and are reinforced with lecturers' knowledge and experience in the industry, making the lessons interesting and engaging, and allowing me to apply the learning to my area of the industry.
YOUR AMBITION AND CAREER GOALS/NEXT STEPS:
My career ambition is to become an Air Traffic Controller, I am currently looking into the training and aptitude tests along with completing the final year of my degree.