GCSE & Level 2 Result Success!
Published 25 August
Student achievement is being celebrated at Craven College today with the release of GCSE and Level 2 vocational results.
325 students who came to College without English or maths GCSE have now gained their English and/or Maths qualification, with English GCSE gaining pass rate 2% above the national rate (National rate 92%).
Students receiving their Level 2 (equivalent to GCSE) vocational results are also celebrating. 58 courses have achieved a 100% pass rate across a range of subjects such as Art & Design, Equine, Beauty Therapy & Hairdressing, Aviation, Travel & Tourism, Esports Gaming, Carpentry & Joinery, Plastering and Fashion & Textiles.
Anita Lall Vice Principal of Curriculum & Quality says "We're incredibly proud of our GCSE and Level 2 students today. These qualifications are the foundations that allow our students to continue their studies and ultimately embark on a successful career in their chosen profession. Many congratulations to all our students receiving their results today. As Enrolment for September 2022 starts today, we are urging anyone who has received their results and who still is undecided on their next steps, to come into College and speak to us about enrolling on a course."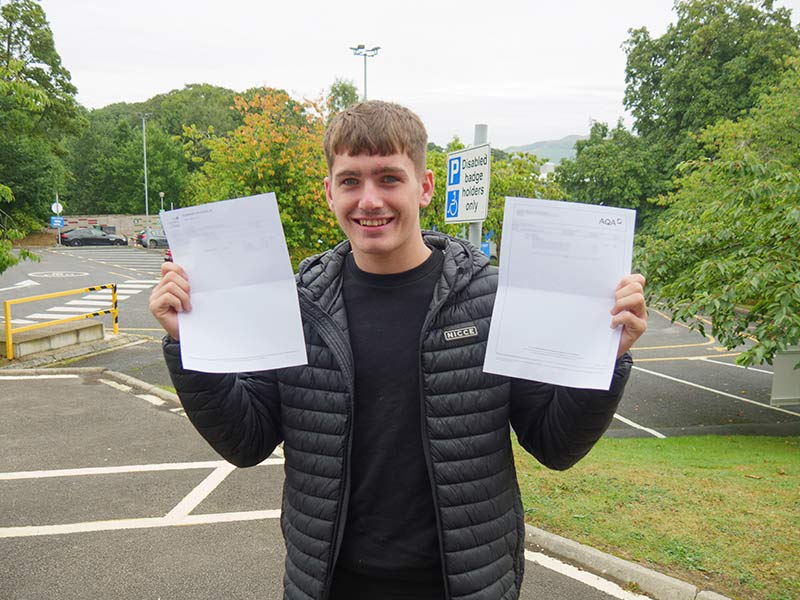 Many students will be receiving their results online today however students who are receiving their English & maths GCSE results can come to College in person to collect their results. GCSE results can be collected from Ingleborough Building on the Aireville campus in Skipton between 9am – 12pm.
Martin Lofthouse Head of Department – Business, Construction and Maths says "Well done and congratulations to all our learners who have worked very hard and put lots of effort into securing a pass grade for their maths and English GCSEs. You have all shown great resilience and perseverance through difficult times and your achievement will be with you throughout your career."
Michael Cawdrey, Head of Department for English comments "A huge congratulations and well done to all of our maths and English students who have secured their pass grade this year. As we come out of such a challenging time, I continue to be amazed by the accomplishments of our learners and how they are continuing to show resilience and progress onto the exciting next steps of their careers at Craven College and beyond. This includes our adult learners, who prove that learning never stops."
Those receiving their results today who have not yet applied for a course starting this September still can enrol on a course at Craven College. Craven College offers a huge range of Further Education courses from Entry Level to Level 3 and Apprenticeships. Enrolment 2022 starts from Thursday 25 August, 10am and visitors will be able to speak to tutors and Careers teams about their next steps. More details can be found here: https://www.craven-college.ac.uk/event/enrolment-2022/