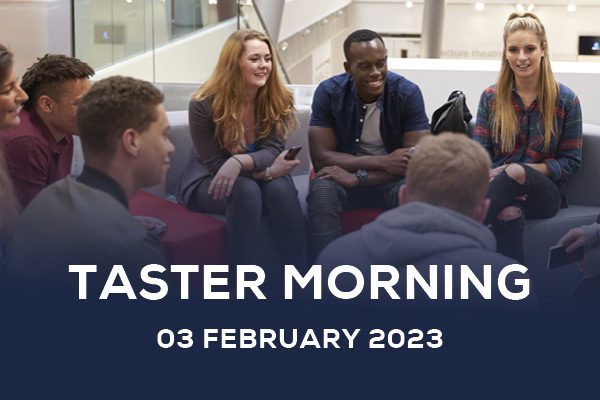 3 February
In Year 11 and looking to start a course in September 2023?
Join us for an exciting, interactive Taster Morning on Friday 3 February to explore courses and careers in a subject of your choice. Please note, you can only register for ONE workshop for this event.
Each Taster experience will include demonstrations, hands-on practical activities, and insights into the careers you can progress on to.
Haven't made an application yet? Don't worry! There will be an application station available at the event.
Check out the options, select your favourite and get booking! We look forward to meeting you.
Event FAQS
What time should I arrive for the event?
Please arrive no earlier than 9:15am to the event, your workshop will start at 9:30am.
Where should I go for the event?
You will receive a confirmation of booking email when you register for this event. It will include all details of where you need to go on the day.
Most taster sessions take place at our Aireville Campus in Skipton:
Craven College
Aireville Campus
Gargrave Rd
Skipton
BD23 1US
T: 01756 791 411
The Mechanics, Countryside & Agriculture and Equine taster sessions take place at our Auction Mart Campus:
Auction Mart Campus
Gargrave Rd
Skipton
BD23 1UX
T: 01756 791 411
The Aviation taster session takes place at The Aviation Academy, our airside campus at Leeds Bradford Airport:
The Aviation Academy
Hangar 1, South Side Aviation Centre
Leeds Bradford International Airport
Leeds
LS19 7UG
T: 0113 391 0919
Can I bring anyone with me to the event?
Unfortunately, only students who have registered for the event can come into the event. Parents and guardians will be able to drop and pick up at each Craven College campus.
Do I need permission to come out of school for this event?
Yes, please get permission from your school to come to this event.
Do I need to bring anything with me to the event?
We recommend that all students bring a bottle of water, pen, and notepad.
When you register for a workshop, any other information you need to know will be emailed to you within your confirmation email.
Have further questions regarding the event? Email events@craven-college.ac.uk and our team will get back to you.
BOOK NOW