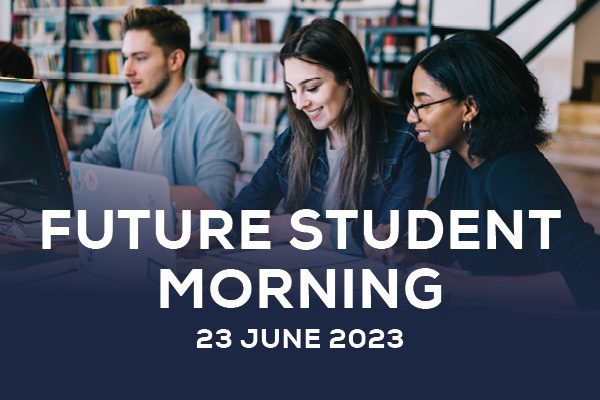 23 June
Are you in Year 11 and have applied for a course starting September 2023?
Then book your place at our Future Student Event on Friday 23 June. This event is the perfect opportunity for you to receive final essential information about your chosen course so you're ready to enrol with us later this summer.
Most sessions on our Skipton campuses will run from 9:30am – 11:30am.
Sessions at our Aviation Academy at Leeds Bradford Airport will run 9:30am – 11:30am and 1:30pm – 3:30pm.
What can you expect from the event? You will…
Meet your future classmates and tutors in person
Take part in fun workshops and activities related to your course
Find out essential enrolment information so you're ready to start in September
Familiarise yourself with our campus
Speak with our Admissions team to accept your offer or make an application if you haven't done so already
EVENTS FAQS
Where do I need to go on the day of the event?
The meeting place location varies for each subject area. Please take a note of the location related to your course area when you register, or see the table below.
Do I need to bring anything with me to the event?
You will be sent a list of things you need to bring with you in your confirmation email.
Can I make an application at the event?
For any students that want to make a new application, amend a current application or receive advice on the application process, our Admissions Team will be on hand to speak with you at the event.
Can I bring someone with me to the event?
Due to limited capacity at our campuses, only students who have applied for the course will be able to enter the event. Parents/guardians will be able to drop off and pick up on our campus car parks.
Will there be refreshments provided at this event?
Refreshments won't be provided at this event, so we advise all students to bring a bottle of water and a snack with them for the duration of the session.
Got more questions?
For any further queries, contact events@craven-college.ac.uk and our team will get back to you.
| Workshop | Where to meet |
| --- | --- |
| Aviation | The Aviation Academy – Hangar 1, Southside Aviation Centre, Leeds, LS19 7UG |
| Performing Arts | TV Studio – Ingleborough Building – Aireville Campus, Gargrave Road, Skipton, North Yorkshire, BD23 1US |
| E-Sports & Computing | Penyghent Building, 2nd Floor (IoT area) – Aireville Campus, Gargrave Road, Skipton, North Yorkshire, BD23 1US |
| Media | Penyghent Building, 2nd Floor (IoT area) – Aireville Campus, Gargrave Road, Skipton, North Yorkshire, BD23 1US |
| Art & Design | Art Studios – Ingleborough Building (1st Floor) – Aireville Campus, Gargrave Road, Skipton, North Yorkshire, BD23 1US |
| Media Make-up | I0.04/I0.12 – Ingleborough Building (Ground Floor) – Aireville Campus, Gargrave Road, Skipton, North Yorkshire, BD23 1US |
| Hairdressing, Nail Services & Beauty Therapy | The Style Academy – Aireville Campus, Gargrave Road, Skipton, North Yorkshire, BD23 1US |
| Public Services | I0.13 – Ingleborough Building (Ground Floor) – Aireville Campus, Gargrave Road, Skipton, North Yorkshire, BD23 1US |
| Sport | I0.19 – Ingleborough Building (Ground Floor) – Aireville Campus, Gargrave Road, Skipton, North Yorkshire, BD23 1US |
| Catering & Hospitality | 3 Peaks Café – Kitchens – Aireville Campus, Gargrave Road, Skipton, North Yorkshire, BD23 1US |
| Animal Studies | Animal Management Centre – Aireville Campus, Gargrave Road, Skipton, North Yorkshire, BD23 1US |
| Science | P0.11 – Penyghent Building (Ground Floor) – Aireville Campus, Gargrave Road, Skipton, North Yorkshire, BD23 1US |
| Social Sciences (inc. Criminology, Psychology, Sociology, Science, Health & Social Care) | P0.13 – Penyghent Building (Ground Floor) – Aireville Campus, Gargrave Road, Skipton, North Yorkshire, BD23 1US |
| Business & Accounting | P1.15 – Penyghent Building (1st Floor) – Aireville Campus, Gargrave Road, Skipton, North Yorkshire, BD23 1US |
| Travel & Tourism | P1.12 – Penyghent Building (1st Floor) – Aireville Campus, Gargrave Road, Skipton, North Yorkshire, BD23 1US |
| Construction (all trades) | Ribblehead Building – Aireville Campus, Gargrave Road, Skipton, North Yorkshire, BD23 1US |
| Childcare | P0.17 – Penyghent Building (Ground Floor) – Aireville Campus, Gargrave Road, Skipton, North Yorkshire, BD23 1US |
| Health & Social Care | P0.15 – Penyghent Building (Ground Floor) – Aireville Campus, Gargrave Road, Skipton, North Yorkshire, BD23 1US |
| Mechanics, Welding & Engineering | Mechanics Workshops – Auction Mart Campus, Gargrave Road, Skipton, BD23 1UX |
| Countryside & Agriculture | Tyro Training Reception – Auction Mart Campus, Gargrave Road, Skipton, BD23 1UX |
| Horse Management | Craven Arena – Auction Mart Campus, Gargrave Road, Skipton, North Yorkshire, BD23 1UX |
BOOK NOW