Student Captures the 1950s Era for Jubilee
Published 06 June
Media student Peter Chadwick has been praised for his work in a social history project which was an integral part of the Queens' Platinum Jubilee celebrations in Bradley.
Peter filmed and edited stories from the 1950s shared by local residents, on their first-hand recollections of what life was like at the time of the Queen's Coronation.
The video was recorded at Bradley Both CP School to Year 4 children, who had been learning about the era all week in lessons. The children asked the residents lots of questions and it was these memory-sharing sessions, alongside the stories and recollections that formed the content of the engaging and informative video.
The final edited version of the video formed an integral and popular part of the 1950sexhibition at Bradley Village Hall across the Jubilee long weekend earlier this month. Over 150 people visited the exhibition during the four days and the video received a lot of positive feedback.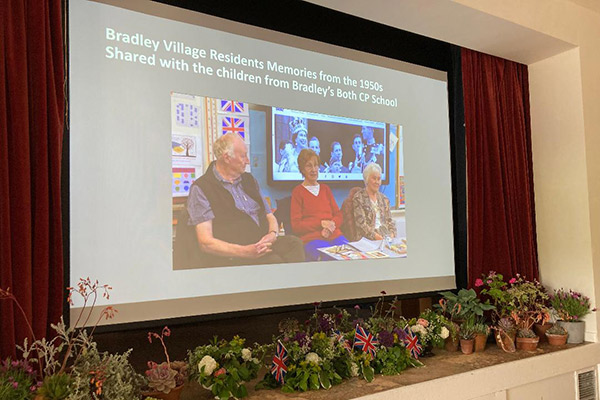 David Snelson, Bradley Village Hall Trustee and Barry Rogers, Headteacher at Bradley's Both CP School said of Peter, "We would like to say how impressed we have been with your creativity, professionalism and quality of the end product. You quickly understood the requirements of our brief and within a tight timescale delivered exactly what we needed. Thank you again for helping us with this project."
Colin Mauder, Media Lecturer at Craven College comments, "When I asked our students who would be up for the challenge, Peter was first, ready and willing to get involved. He is a great organiser and 100% trustworthy and reliable; he is an absolute superstar and any employer will be lucky to have him on board, and he is currently looking for a media/film/marketing apprenticeship."