Performing Arts Workshops Ensure Students are a Tough Act to Follow
Published 02 November
Craven College Performing Arts students were recently involved in several engaging workshops last term to help them hone their craft. The highly engaging workshops included themes around 'The Healthy Performer', 'Physical Theatre' and 'Street Dance'.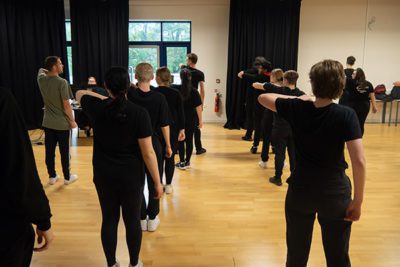 The Healthy Performer
Robyn Hargreaves, a registered specialist dietician spoke to the group about how to be a healthy performer. The workshop included discussions around food groups and the benefits these have on the body, as well as looking at rehearsal and performance scheduling and what can optimise their potential, keeping them fit and well.
Physical Theatre
Performing Art students attended a workshop at Leeds Playhouse based around the many aspects of physical theatre. They took part in 'trust games' which involved the performance of lifts and moves to tell a story. Students then demonstrated their new skills by creating the fairy tale 'The Three Little Pigs'
Street Dance
Kyle Hargreaves, a talented Street Dance teacher who is a past student at Craven College, ran a high energy workshop based around the internationally reclaimed musical Hamilton. The students learnt a choreographed piece to represent a medley of songs from the musical.
If you are interested in applying for a course in Performing Arts then click here for more information or if you want to visit our next open evening then pre-book your place here