Health & Social Care Students Scoop Top Prize for Charity
Published 11 April
A group of Health & Social Care students celebrated winning a top prize of £1,000 for charity at a recent First Give Finals event held in Saltaire.
The First Give project involved students from Craven, Shipley, Keighley and Bradford Colleges and aimed to get students thinking about social issues in the local area and learn about the charities that work to address them.
The winning Health and Social Care Student Team, who were represented on the night by Charlotte Murie and Tilly Sharpe, chose their charity Bradford Nightstop, which supports youth homelessness, after hearing about the lived experiences of students on their course.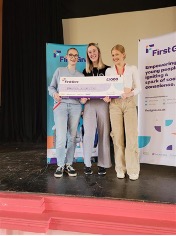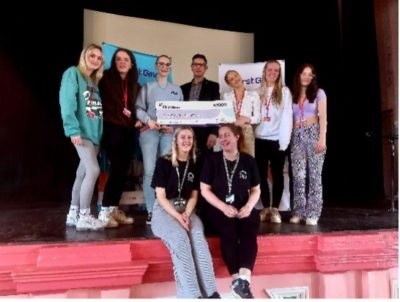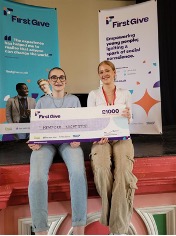 For the project, students were asked to select a local charity and then looked at ways to support them through direct social action. Students then had to create an engaging presentation about their chosen charity, the work they do and the social action the group carried out.
The Health & Social Care students recognised the issue of youth homelessness, in particular within the Bradford area, and researched how the charity offers a number of support services such as a place of safety, rooms, meals, essential supplies, and learned more on how the charity helps to support the next steps, and how people could volunteer. From the research stage of the project, the students set about organising a bag packing event at Keelham Farm Shop to raise awareness and vital funds for the charity.
In total four groups of students from Craven College took part in the project and their chosen charities were:
The Aviation Academy is represented by Mughees Aslam, Rafeh Amin, Rehaan Asghar. Chosen Charity – Simon on the Streets
Animal Care, represented by Holly and Emily Macken. Chosen Charity – Aireworth Dogs in Need
Equine. Chosen charity – Skipton Foodbank
Health and Social Care is represented by Charlotte Murie and Tilly Sharpe. Chosen charity – Bradford Nightstop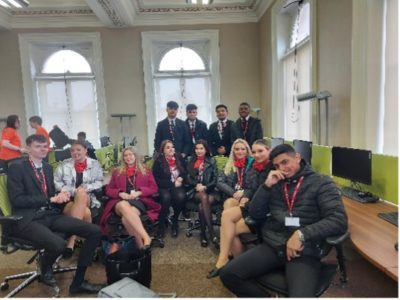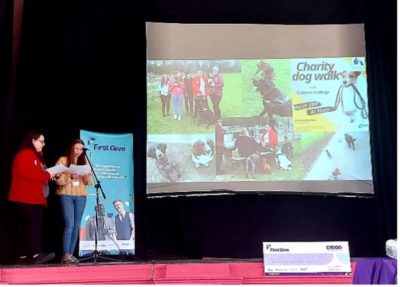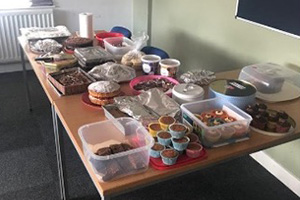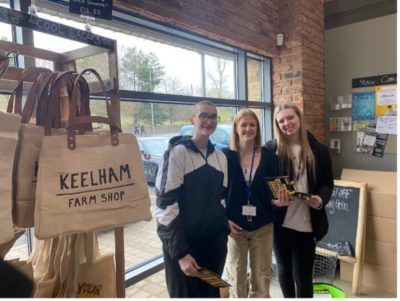 With regards to Charlotte and Tilly's winning presentation Isaac Jones, Head of Programmes at First Give said "The judges thought that the presentation was brilliant! They were natural, hard-working and they are enthusiastic about continuing to work with their Social Action project with Bradford Nightstop. All students demonstrated true commitment and passion and I am impressed with the incredible hard work ethic that the students at the Colleges have."
Darren Starkey, Chair of the Board for Bradford Nightstop said, "I was really impressed with Charlotte and Tilly's passion and energy and they seemed really clear, sharp and focused. Their kindness and generosity are a credit to them. I can't thank the College or the students, Teiya, Charlotte, Tilly, Lucy and Scarlet, enough for their time and effort and for the funds and awareness they have generated."
Catherine Jackson, Student Services Manager at Craven College commented "First Give is a great programme as it is structured, which makes it easier to follow and engage students in Social Action. The programme has enabled students to take ownership of their project, identifying the issues that they want to address and taking the lead in designing the activities that they will carry out. Students have benefited from real-life practical opportunities to work together as a team and learn new skills in research, public speaking and reflection."

Vocational
| Title | Level |
| --- | --- |
| Animal Studies | Entry Level 3, Level 1, Level 2, Level 3 |
| Aviation | Level 1, Level 2, Level 3 |
| Aviation & Tourism (Jan 2024) | Level 3 |
| Cabin Crew | Level 2 |
| Health & Social Care | Level 1, Level 2, Level 3 |
| Social Sciences (inc. Psychology, Sociology, Science, Health & Social Care) | Level 3 |
| Travel & Tourism (Jan 2024 - Aviation Academy) | Level 2 |
Degrees & Higher Levels
Part-time
T-Levels
Access to Higher Education