Elsworth Kitchen Gives Students Food for Thought
Published 21 February
Creative Media Level 2 students have been working alongside Elsworth Kitchen to create a poster for their Wine Club event.
Rebecca at Elsworth Kitchen is an ex Art & Design student of Craven College and is keen to support the work of local students and artists. Rebecca has selected a winning poster from the class by Toby Holden. Toby's work will be displayed on the Elsworth Kitchen website and on social media.
Tutor Laura Lee Brennand said: "The students have loved working on the project. The whole class generated a range of exciting ideas for their poster, staging their own photoshoots and editing photographs."
We are looking forward to future projects with the Elsworth team!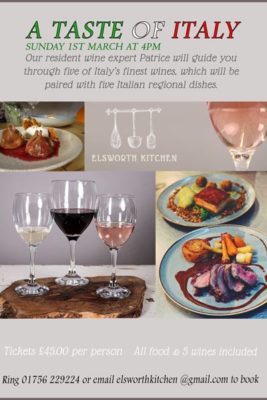 Winning poster – Toby Holden