Craven College Celebrates Excellent Results
Published 10 August
Special congratulations go to Equine Management, IT and Health & Social Care Extended Diploma students who achieved a full house with 100% high grades. Elsewhere in the College, 100% pass rates were achieved in A Level Psychology, Public Services, Art & Design, Land-based Studies, Bench Joinery, Performing & Production Arts, Business Administration, Creative Media Production & Technology, Equine Management, Health & Social Care, Applied Science, Animal Management, Information Technology and Travel & Tourism.
A timely investment in technology and flexible, digital learning has meant that Craven College students have been well placed to achieve their goals despite the pandemic.
Lindsey Johnson, Principal says, 'Our technical qualifications lead to A Level equivalent results where students can progress to university or apprenticeship or straight into a job. For instance, a student achieving D*D*D* (distinction star) in an Extended Diploma is equivalent to A*A*A* at A level and worth the same 168 UCAS points for university entry. This year we are delighted to see students progressing to Degree Apprenticeships for the first time and going on to study relatively new subjects such as Games Design.'
IT students have also been celebrating their high level of distinction grades. Chris Wright, computing tutor says, 'These fantastic results are a testament to the student's dedication and hard work in what has proven to be a very tough year.' This year some students have opted for the new degree apprenticeships. Alicia Hey, from Goose Eye, Keighley, who achieved the highest overall grade in the year group is going to Exeter University and will work at BT Head Quarters in Ipswich. Ewan Callaghan from Oakworth is another IT success story. Ewan has just achieved Extended Diploma (DDD) after coming to Craven College and enrolling on Level 2 with no Maths and English. After accomplishing this very high grade in IT, he has gained an Apprenticeship at Kone and will start in September. Matthew Moody from Ingleton is looking forward to studying Computer Science at Northumbria. Andrew Howard from Clitheroe is embarking on a Software Development Degree Apprenticeship in London. Matthew Reynard from Oxenhope (Extended Diploma DMM) is delighted to have a place at the University of Greenwich to study Programming. Matthew says,'I really enjoyed the practical nature of the course at College. It was different to school because you fully concentrate on IT and all your time is focussed on what you want to do rather than having to pick other subjects to make up your timetable. Plus, our tutor has experience in the industry so we were able to learn real-world experience and not just theory.'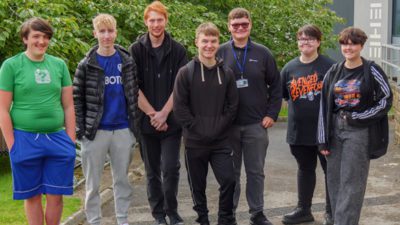 Jemma Crozier, Creative Media Production and Technology Tutor says of the Level 3 Extended Diploma students, 'While the rest of the TV and Film industry packed up their cameras, microphones, and tripods, to wait out the last lockdown, this group were just starting their Final Major Project. It was always going to be difficult shooting short films, music videos and documentaries with limited resources. However, they were determined, filled with grit and passion to succeed, and continued to produce fantastic pieces of work. This year I have seen some of the best practical work in all my time teaching, even after everything they have been through, all the obstacles in their way. They were limited to travelling, actors in isolation, they had to plan carefully how to get shots within the 2-meter distancing rule, mask-wearing, but despite all this, they did it and they did it in style, with a 100% pass rate and 67% achieving a Merit or distinction'.
Extended Diploma Level 3 Media students Shemhaji Villocillo from Skipton and Harry Tennant, from Addingham, were both pleased with their results. Shemhaji is taking a year out to build up his portfolio and Harry is going to Greenwich University to study Film & TV Production. Harry said, 'This course really worked for me because it is more practical and you get to understand the context of the subject much more than if you took the more theoretical A level route.'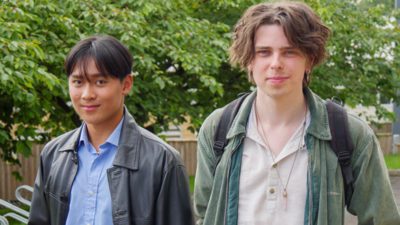 Performing and Production Arts Level 3 Extended Diploma students succeeded with 100% high distinction grade. This included Owen Gallear from Cullingworth, who is progressing to the Arden School of Theatre to study Theatre and Performance, Abbi Mercer from Oxenhope, who has secured a place at the Northern School of Art, to study Acting for Stage and Screen. Olivia Ryder from Skipton is progressing to BA Acting in the 21st Century at the Institute for Contemporary Theatre. Izzy Harris from Skipton will go to The Arden School of Theatre after a year out to study Technical Theatre and Production and Tilly Moorhouse, also from Skipton will concentrate on full-time work, whilst working with acting agencies.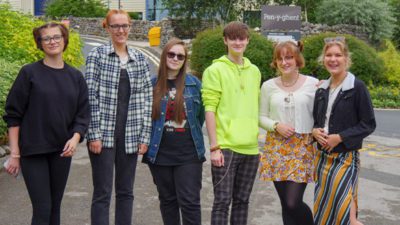 Rosie Rudden from Skipton was highly delighted with her Sociology, Psychology, Health & Social Care results (BB Distinction) and will study a Primary Teaching Degree at Edgehill University. Rosie says,'I have really enjoyed the course because it has been so varied. It has allowed me to look at different career choices and has helped me to decide on primary teaching. I chose Craven College because there are smaller class sizes than in some of the large school sixth forms and have found it to be really friendly with good resources for my course.'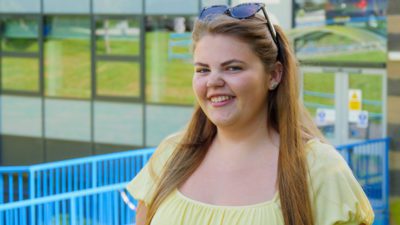 Luca Di Palma Heath, from Bramhope, has achieved D* in his Level 3 Aviation & Travel, giving him the necessary UCAS points to enrol on an Aviation degree at The Aviation Academy. Nikki Chestnutt, Head of Aviation, says, 'We are thrilled for Luca as he has worked so hard to achieve his goals. He has been with us for 3 years and has worked his way through the levels and is now on track for degree success.' Luca added 'The whole atmosphere at the Aviation Academy is great for learning, from being airside, to the trips to Concorde at Manchester Airport and being selected to be part of the Ambassador Programme at Leeds Bradford Airport. The TAA staff are fantastic and very supportive.'
Anita Lall, Vice Principal, said 'I am delighted for all our students receiving results today. Their determination and resilience through a difficult year have shone through and I wish them every success for their future.'