'Beyond building back better' Published Article by Chair of Governors Stephen Morton
Published 12 January
Dr. Stephen Morton, Chair of the Board of Governors of Craven College, has co-written an article published in the Lancet Planetary Health, about prioritising the environment and social areas of sustainable development, rather than economic, in any Covid-19 recovery programmes.
The article entitled 'Beyond building back better: imagining a future for human and planetary health' explores how the transformations catalysed by the COVID-19 pandemic should be used to improve human and planetary health and well-being, rather than to focus on economic development.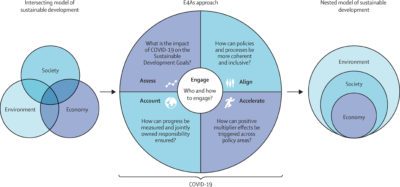 The article raises that economic domain is not unimportant, but that society needs to break the model where economic development is pursued as an end, and particularly to wean humanity off an addiction to continual economic growth.
The Lancet Planetary Health is a global journal publishing peer-reviewed research and reviews reaching more than 84,000 million visits annually to their website, and 141 million articles downloaded per year.
Alongside his position as Chair of the Board of Governors at Craven College, Dr. Morton is a public health doctor, who worked in a variety of posts in the UK. He has also worked as a temporary advisor for the World Health Organisation and is currently supporting the European Regional Office on tools to support the implementation of the UN Sustainable Development Goals. Stephen is also an active member of the Skipton & Craven Green Party.
You can read the full article 'Beyond building back better: imagining a future for human and planetary health' by Dr Stephen Morton.
Craven College continues its pledge to promote both individual and collective action focussed on our own sustainability revolution, committing to play its part in making the planet a sustainable environment for all. You can find more details about the College's Sustainability Pledge here.