Horse Behaviour & Welfare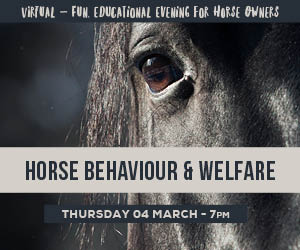 4 March 2021
7:00 pm
–
8:00 pm
A remote fun educational evening where you will learn about meeting the horse's needs in challenging environments such as on box rest or when conditions prevent turn out.
Register
To register, click on the link below, attendance is free – but if you would like to make a donation these are being accepted for World Horse Welfare
Registration for the event will close on Wednesday 03 March at 12noon.
You will receive a confirmation via email and then an invitation the day prior to the event (please check your junk mail if you haven't received it).
For further information or queries, please email: equine-events@craven-college.ac.uk
This event is run by Craven College Equine Students.