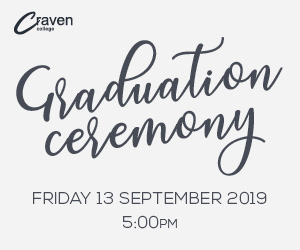 13 September 2019 5:00pm - 7:30pm
Craven College's Graduation Ceremony takes place every year to celebrate the success of our students – not just their success with us but their future success in education or employment after Craven College.
This year the Ceremony will take place on Friday 13 September 2019 at Holy Trinity Church and Skipton Castle.
4:30pm – 5:30pm: Registration, gowning and photographs at Skipton Castle, The Bailey, Skipton BD23 1AW
5:00pm: Drinks reception
6:00pm: Procession to Holy Trinity Church, 1A Mill Bridge, Skipton BD23 1NJ
6:05pm: Ceremony starts
7:30pm: Approx finish
Graduating students already have a guaranteed free place and do not need to buy a ticket for themselves. Graduating students will need to register their free place. Tickets only need to be purchased for guests and are priced at £5 each (includes one free drink at Skipton Castle). Each student is permitted to bring up to 3 guests each.
Please print and bring your confirmation email on the evening to present on the gate. Tickets will permit entrance into Skipton Castle, Holy Trinity Church and one free drink for all guests.
Gown Hire: Gowns can be hired from William Northam before 11pm on Sunday 8 September 2019 via their website www.williamnortham.com
Should any students need to order on the day we do take spare stock however this is on a first come first served basis and students will miss out of the advance ordering discount should they not have ordered via the website or our call centre.