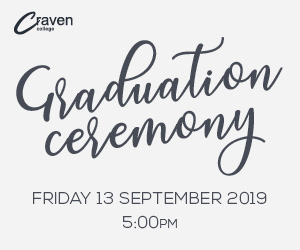 13 September 2019 5:00pm - 7:30pm
Craven College's Degree Graduation Ceremony takes place every year to celebrate the success of our Degree students – not just their success with us but their future success in education or employment after Craven College.
This year the Ceremony will take place at Skipton Castle and Holy Trinity Church, High Street, Skipton.
Arrival, gowning, photographs and refreshments 5:00pm – 6:00pm at Skipton Castle, The Bailey, Skipton, BD23 1AW.
Graduation Ceremony 6:00pm – 7:00pm Holy Trinity Church 1A Mill Bridge, Skipton, BD23 1NJ.
Parking will be available on Skipton High Street.
Graduating students will receive an invitation at the beginning of August 2019 which will include instructions for students to register their attendance at the Graduation Ceremony online via Eventbrite, where all the relevant information will be available, including the hiring of gowns and registering guests. Guests will be limited to 3 per Graduand.
BOOKING LINK COMING SOON
Students who have submitted reassessment should register their attendance at the Graduation Ceremony, we will ensure you are informed of your outcome before the event takes place.
N.B. Students with outstanding assessments or tuition fees will not be permitted to attend the Graduation Ceremony.
We look forward to seeing you at Graduation.