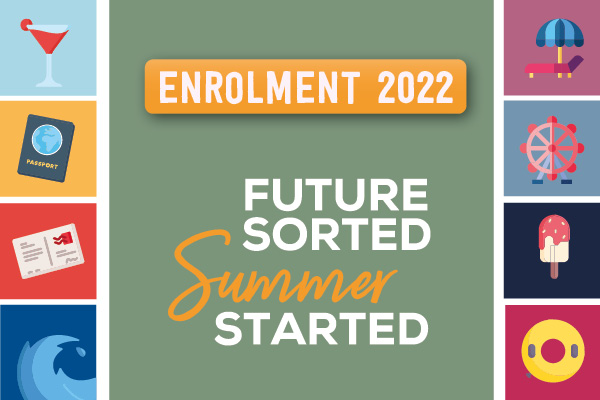 Enrolment 2022 (Skipton)
8 September - 15 September
Aireville Campus
Main enrolment is now closed however, if you wish to start a course with us this September please contact Maria Jones at customerservices@craven-college.ac.uk, 01756 791 411 or use our webchat.
Please note: If you are wanting to enrol at The Aviation Academy, please contact info@theaviationacademy.co.uk or call 0113 391 0919 for further information.
For further information and FAQs about enrolling at Craven College click the button:
Degree Students
If you are enrolling on a Higher Education course (Foundation Degree, HNCs, Degrees) you will be able to enrol online from 18 August (please check your emails for full info.)
At Your Enrolment Session
When you attend enrolment, please ensure you bring:
Examination results slips/certificates – these must be your original certificates/ results slips or an electronic copy
A form of ID – Acceptable forms of I.D are: National Insurance Card, Passport, Driving Licence, Bank Card, ID Card or other forms of national identification
For students aged 19 and over – Please bring with you proof of income-related benefits, confirmation of Advanced Learner Loan, or if you are paying your fees, you will be required to bring a 20% course fee deposit.


If you are a Degree Level Student you will also need:
Your University/College Payment Advice from the Student Loans Company (you can download this page from your online account). If you are still waiting for this due to applying through Clearing, please upload that you have applied for student finance showing your name and customer reference number. (If Student Finance are paying your fees but you cannot provide proof, you will not be able to enrol.)
If you plan to pay your fees yourself a 20% deposit is required, and the remainder may be paid by Direct Debit. Please call the Customer Services Team on 01756 791 411 to make a card payment for your deposit or fees in full.
If your employer is paying your fees, you must upload confirmation of this on letterheaded paper.
If you have any further questions, please use the webchat or contact our Customer Services team on 01756 791 411 (9am – 3pm, Monday – Friday or by emailing: customerservices@craven-college.ac.uk