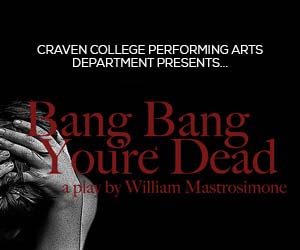 15 May 2019 7:00pm - 9:00pm
The Craven College Performing Arts Department presents…
Bang Bang You're Dead (a play by William Mastrosimone)
Performance starts at 7pm. No need to book tickets, just turn up!
Location: The Hall, Pen-Y-Ghent, Craven College, Aireville Campus, Gargrave road, Skipton, BD23 1US
William Mastrosimone wrote the play "Bang Bang You're Dead", to address school violence. Based on a true story and written in reaction to threats of violence-from students, toward students-at his son's school. The play is about a teenage boy who has shot and killed five of his classmates. He is sitting in a cell and the ghosts of his victims come back to question why he did what he did.