Aviation & Travel Taster Workshop 'Airlines & their Destinations'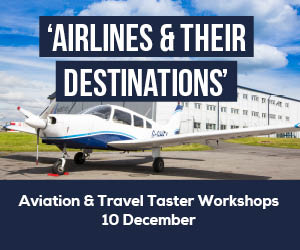 10 December
10:00 am
–
3:00 pm
These taster sessions are for anyone interested in studying for a career in Aviation & Travel and aged 16-18 or 19+, who feel they may have made the wrong decision to stay on at school or started a course at college and are considering changing what they study.
The session will cover careers within the Aviation & Travel industry and the types of areas they will cover whilst studying the course. Please select your preferred date upon registration.
Full-time courses will start in January 2022. For further information on the Level 2 & 3 courses click the button below.
Events FAQs
What time shall I arrive for this event?
Please arrive for a 10:00am start, this event will start promptly. The event will finish at 3pm.
Do I need to bring anything with me to this event?
Please bring a notepad, pen and bottle of water. Please dress smartly (no jeans).
Will lunch be provided?
Unfortunately, lunch will not be provided. Please bring a packed lunch with you to this event.
Do I need to get permission from school to attend this event?
Yes, please ensure you have asked your school if you are able to attend this event