Enjoy studying, watching and writing about films from different time periods as well as creating your own film-based productions? This engaging new course enables you to study the industry at the same time as adding professionalism to your own skills.
On this course you will have the chance to study and enjoy a wide range of films whilst also beginning to produce your own practical work. This study programme consists of deepening your appreciation of cinema and understanding of films in terms of their historical, political and cultural contexts. Your first year study will include contemporary Hollywood and British film, whilst in your second year you will concentrate on world cinema and the classics. Craven College Media Studios have broadcast quality HD cameras, tracking, mobile lighting kits, auto-cue and mobile vision mixing facilities, giving you the experience of professional moving image production. There is a well-equipped industry-standard Mac Video Editing Suite with CS6, fully operational Radio Station, audio editing and production software to ensure you have the industry experience to take with you to employment or Degree level study and the crowning glory – a live TV Studio with a vision mixer. These facilities are the perfect starting point to help you build your skill-set and lay the foundations to pursuing a career as a Print, Digital or Broadcast Journalist, Editor, Publisher, News Correspondent, Film Director, Producer or Storyteller in the media industries. Our professional tutors have specialisms in television and radio broadcasting, social media, print media for newspapers and magazines, factual production and broadcast journalism which will help you grow your planning and communication skills enabling you to develop ideas effectively and creatively for different purposes and audiences on a range of media platforms.
Aireville Campus
Study Location
1-2 Years
depending on Level
Entry Requirements
Level 3 – 5 GCSEs grade 9-4 or Media Level 2 (Merit/Distinction) including English or maths GCSEs grade 9-4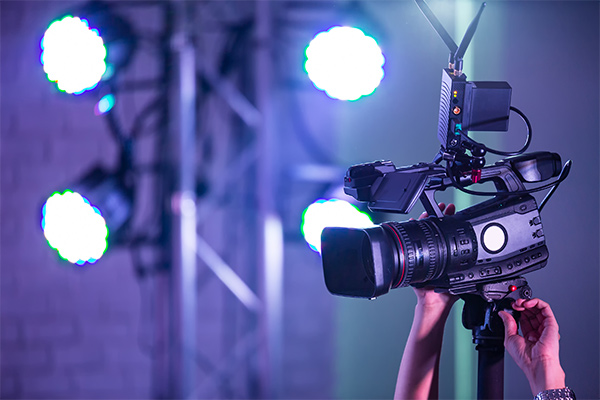 What you will study
Units
• Elements of Film
• Understanding British Film
• Film History
• Critical Approaches to Film
• Making a Short Film
What's Next?
Select your preferred study programme (subject). You can make 2 choices now and make a final decision in June. We will give you a conditional offer based on your predicted/actual GCSEs.
Careers
Broadcast Presenter
Film Director Film / Video Editor
Location Manager
Production Designer
Programme Researcher
Television / Film / Video Producer