If you have aspirations to be a Zookeeper, a Veterinary Nurse, a Dog Trainer or any career in the Animal industry, then our Animal Studies course is the perfect qualification to help you start your career. Where better to study than in our new state of the art Animal Management Centre on our Aireville Campus in Skipton.
Our new, purpose built Animal Management Centre is a sensational extension to our high-quality provision for Animal Studies students. The new facilities include a reception area with a large display tank for large reptiles, specialist rooms for fish, invertebrates, nocturnals, rabbits, guinea pigs, rodents, reptiles, amphibians, small mammals, plus quarantine and isolation rooms. There are a dedicated dog exercise area and grooming room, outdoor and indoor aviaries, outdoor runs for ducks, hens, geese and rabbits, and a wildlife area.
Our Animal Studies tutors have a vast range of skills and years of experience of working with animals, including dog grooming in the UK and caring for reptiles as part of private zoo collections. Their specialist study areas include animal health and nutrition, animal welfare, environmental studies, behavioural science, animal health and parasitology, animal cognition, conservation and ecology, giving you a depth of knowledge to tap into.
You can choose whether to follow a practical or academic exam-based route (all levels), depending on your future goals and preferred learning styles
Visits to zoos and local farms and frequent workshops by local experts are some of the enrichment activities you can expect to be part of the Animal Studies course at Craven College.
Aireville Campus
Study Location
1-3 Years
depending on Level
Entry Requirements
Level 3 – 5 GCSEs 9-4 or Animal Studies Level 2 including English or maths & science GCSEs 9-4
Level 2 – 4 GCSEs 9-3 or Level 1 Diploma including English & maths GCSEs 9-2
Level 1 – 3 GCSEs 9-1 including English & maths
Entry Level 3 – Basic level of maths & English, enthusiasm for the subject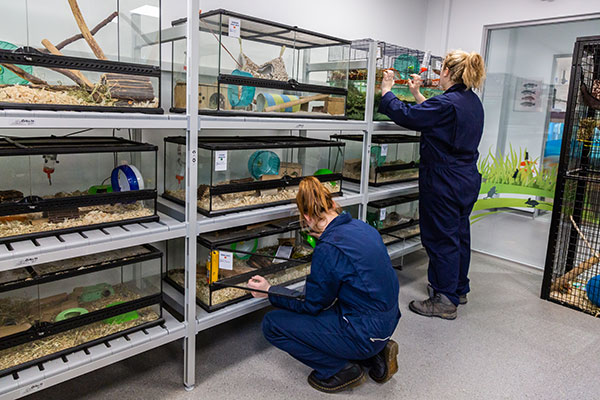 What you will study
Units
• Working with Farm Animals – Sheep, Goats & Chickens
• Working with Small Animals to Complete Health Checks & Grooming
• Showing Visitors Around the Unit
• Work Safely, Lift & Handle Safely, Effective Communication, Working as Part of a Team
Units
• Assist with Maintaining the Health & Well Being of Small Animals
• Animals in the Wild & their Main Features
• Uses & Domestication of Animals
• Assist with the Preparation & Maintenance of Animal Accommodation
• Safe & Effective Working Practices in Land-based Industries
• Preparing to Work in Land-based Industries
• Introduction to Wildlife & Conservation
Units
• How to Promote & Maintain the Health & Well-being of Animals
including Identification of Abnormal Signs, Monitoring & Maintaining Accurate Record
• Optional units include: Moving Animals Between Locations
• Communicate Information Within the Workplace
• Care for Animals After They Have Worked:
Units
• Wildlife & Ecology Conservation
• Pet Store Design & Management
• Animal Nursing
• Pet Allied Services
• Kennel & Cattery
• Management Undertake Estate Skills
• Business Management in the Land-Based Sector
• Undertake a Specialist Project in the Land-based Sector
Units
• Promote & Maintain the Health & Wellbeing of Animals
• Plan Diets & Feeding
• Promote, Monitor & Maintain Health, Safety & Security in the Workplace
• Plan Animal Accommodation
• Monitor & Evaluate the Accommodation of Animals
• Plan the Handling & Restraint of Animals
• Establish Animals in a New Environment
What's Next?
Select your preferred study programme (subject). You can make 2 choices now and make a final decision in June. We will give you a conditional offer based on your predicted/actual GCSEs.
Further Study
Animal Management HNC
Careers
Animal Care/Welfare Manager
Dog Trainer/Groomer/Warden
Pet Shop Manager
RSPCA Inspector
Veterinary Nurse
ZooKeeper